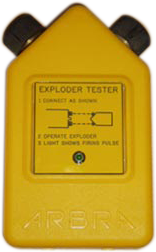 Exploder Testers
The Beethoven ET series of electronic testers is specifically designed to safely check the correct operation of the related beethoven exploder. These testers are part of a range of products manufactured by Arbra instruments and our sales office would be delighted to help you select the most appropriate one for your application. Each ET tester is manufactured in a robust high impact ABS moulded case. It is completely water and dust proof. An unique feature of the tester is the use of sliding billet terminals.
This feature makes cable connection especially easy and prevents the cables from damage. All electronic components are resin encapsulated to prevent damage.
Beethoven model No
Energy tester required
MK2
ET2
MK7
ET7
MK8
ET8
MK19
ET19
MK20
ET20
MK21
ET21
MK22
ET22
MK22/3
ET22
MK23
ET23
MK30
ET30
ET7 may be used prior to blasting for confidence testing. The ET7 is not approved to fully test the MK7 exploder.